RAIDage DAGE1240DE-ES, DAGE1540DE-PM, and DAGE1640DE-4MS Storage Towers by Virtual Hideout
RAIDage Presents the New Storage Tower Series for Valuable Data
Reviewed by: David McCabe
Date: August 1, 2011 
Article url: http://www.virtual-hideout.com/2011/08/raidage-from-istarusa-group-presents.html
Product page: http://istarusa.com/raidage/products.php?model=DAGE1240DE-ES, http://istarusa.com/raidage/products.php?model=DAGE1540DE-PM, http://istarusa.com/raidage/products.php?model=DAGE1640DE-4MS

Storage space has always been a major issue for growing small businesses, schools, medical centers, homes, and more. For as long as companies do business, schools enrolling students, medical facilities treating patients, data will continually be created, and the demand for storage will incessantly rise. RAIDage has once again intuitively designed a storage system for anyone or entity who needs storage space, but have limited work space.
RAIDage features high performance storage towers
DAGE1240DE-ES
,
DAGE1540DE-PM
, and
DAGE1640DE-4MS
. All three models support 3.5" SAS I/II & SATA I/II/III, and with an optional high performance raid controller card, they could have transfer speeds of up to 6.0GB. Using a high performing host controller, their large storage capacities can also be configured 1/0/5/10/JBOD raid configurations, which depending on the configuration has the potential to duplicate a hard drive more than once for zero downtime.
Each of these models also has different features and benefits; the eSATA 12 bay DAGE1240DE-ES is a one port to one connection that means it only needs three cards on the back. The eSATA 15 bay DAGE1540DE-PM is one port to five connections, which means that this model only need three eSATA cards that allows for simple storage management. Lastly, the MiniSAS 16 bay DAGE1640DE-4MS, which is one port to four connections, meaning that it only needs two to four MiniSAS cards on the back. In other words with two cards in the back, you can divide your drives into two collective hard drive. In any case, these towers can maximize your storage space, protect your data, and allow you to manage your data efficiently. 
RAIDage's storage towers, DAGE1240DE-ES, DAGE1540DE-PM, and DAGE1640DE-4MS, will give you all the benefits of the peace of mind that data is highly failure-proof yet easily accessible. Nevertheless, iStarUSA Group is available for all your OEM ODM project needs.
iStarUSA RaidAGE GAGE104U40 Trayless Hardware RAID Enclosure (Unboxing)
Date: December 8, 2011
Reviewed by: Youtuber "motherboardsorg"
Product page: http://www.istarusa.com/raidage/products.php?model=GAGE104U40SL-SAUF

RAIDage GAGE104U40SL-SAUF RAID Enclosure Unboxing & Review by Motherboardsorg
Reviewer: Larry Jordan
Date: July 6, 2012
Article url: http://www.larryjordan.biz/review-raidage-trayless-raid/
Product page: http://www.istarusa.com/raidage/products.php?model=GAGE104U40SL-SAUF
Felicia, at iStarUSA, contacted me recently about reviewing their GAGE104U40 series of 4-bay Trayless RAID systems. They market it under the brand name "RAIDAGE."
I'm always interested in storage so I said "Yes, thanks!"
Shortly thereafter, the new RAID showed up. Like many storage vendors moving into the retail market, iStarUSA is a well-established supplier of OEM products – OEM (Original Equipment Manufacturer) means that iStarUSA makes products which are sold to consumers by other companies.
Their website says:
iStarUSA Group has over 20 years of experience in the industrial computers industry. We specialize in OEM/ODM projects and manufacture of industrial power supply, rack-mount chassis, enclosed cabinets and racks, data storage, and custom power solutions.

Our intrinsic value is driven by one steadfast belief: "To always provide our customers with the best products and superior customer service."
While it is hard to tell for sure, the chassis I was sent retails for about $325 and holds up to four 3TB drives. In a RAID 5 configuration, that would allow for up to 9 TB of storage. (A RAID 0 could be configured using only two drives.)
FIRST LOOK
At first glance, this chassis (the RAID ships with no drives) looked nice. Aluminum finish, easy access to the drive slots.
I happened to have four Seagate 2TB drives sitting around the office, so I slipped them into the unit. Adding drives is easy, requires no screws or hardware and is very, VERY difficult to mess up. (However, removing the drives was a bit trickier, two of the levers that push the drives out took a lot of force to eject the drive.)
At this point, problems typical of an OEM manufacturer started to show up. The "user manual" is a single sheet of paper that's written in a style I call "translated Chinese." It CAN'T be that expensive to hire an English-speaking copy-editor to proof-read a single sheet of paper, and it would surely help make the configuration process understandable.
NOTE: The installation instructions imply that this RAID only supports USB 2 when connecting to a Mac, which is not correct.
The access door, which covers the drives, was either manufactured, silk-screened, or mounted upside down – the text silk-screened onto the door was upside down and the little windows which allow you to watch the blinking lights from the drives didn't align with the drive lights. Once the cover is closed, you can't tell if the drive is on or off, or if the drives are working. Also, the magnetic latches holding the door closed are very weak and the access door tends to fall open.
I'm starting to get the feeling that the company mission statement about quality has not yet filtered down to the manufacturing floor.
I REALLY like the idea of a RAID that can either sit on the table-top (it has rubber feet to keep it from skidding) or can be rack-mounted as part of an edit bay.
However, back to that quality thing, the screws for the rubber feet never tightened down completely which meant the feet were loose and allowed the unit to wobble. Also, the bottom of the unit has 28 different holes drilled into it: 10 filled with screws, four for the feet and 14 that seemed empty and waiting for… something.
POWER ON
The RAIDAGE supports USB 2, FireWire 400, FireWire 800, and eSATA. For Mac users, there is ZERO benefit to attaching a RAID using either USB or FireWire 400, so I didn't bother.
For some reason, and I do NOT blame the manufacturer, I was not able to get eSATA to work. On the other hand, eSATA is not an option for any Mac other than a MacPro or 17″ MacBook Pro.
The fans are quieter than many RAIDs, but still louder than I would like. iStarUSA advertises this RAID for audio and video recording applications – if they could cut the fan noise in half that would be great.
For my speed tests I used FireWire 800. This will ALWAYS be slower than eSATA, but for many Mac editors, FireWire 800 is the fastest option for connecting storage to their computer.
NOTE: As far as I could tell from their website, iStarUSA does not currently ship storage with a Thunderbolt connection.
I attached the FireWire cable and power to the unit, set the DIP switches on the back to RAID 5, and powered the unit up.
NOTE: Click here to read an article explaining what RAID levels mean.
It beeped once, to indicate it recognized the DIP switch settings, and a warning message appeared on my Mac saying the drive needed to be initialized. Initialization is normal for all new hard drives.
I opened Disk Utility, selected the RAID and formatted it as HFS+ Journaled. (Journaling creates a slight performance hit, but minimizes problems with corrupted disk directories. The performance hit due to using FireWire is far greater than any slowdown caused by journaling.)
Formatting was done in a minute or two and the new RAID showed up on my desktop, like any other hard drive.
SPEED TEST
There's something very sweet about 6 TB of brand, spanking new, totally empty storage. (It won't be empty long, so I was enjoying the view.)
Using my 2010 MacPro, I used the AJA System Test utility to run a file size sweep. Hard drive speeds generally vary based on file size (bigger files write and read faster), and write vs. read (writing is generally faster).
Now the surprises started. Regardless of file size, speeds didn't vary. And, in fact, write speed was slower than read and both were below single drive speeds. For example, the write speed (the speed the drive records data) was 68 MB/second, regardless of file size. A single hard drive inside my MacPro (also a 2TB Seagate) was 7% faster for writes. RAIDs should ALWAYS be faster than single drives, all things being equal.
Read speed hovered around 83 MB/second. That same internal single hard drive was only 5% slower.
The theoretical speed limit for FireWire 800 is 100 MB/second. For a RAID 5 with four drives, I would expect read and write speeds around 90 MB/second. The speed of this unit is nothing to write home about, and the write speed I found especially distressing.
A BIGGER PROBLEM
Still, RAID 5 storage is a good thing – it protects you in case a drive dies. However, what made this unit unacceptable for media use is that it automatically powers down into sleep mode if the drive is unused for five minutes.
This means that if you are using it for video or audio editing and you are not reading or writing to the disk, it will go to sleep automatically. And it takes about 10-15 seconds to wake back up again. This will drive you absolutely nuts if you are trying to edit efficiently.
At the very least, there needs to be some way to turn off auto-sleep mode on the unit, but iStarUSA's website had very limited tech support options to help find answers to that question.
UPDATE – July 6, 2012
The folks at iStarUSA notified me that they have added the ability to control sleep mode. They wrote:
The RAID manager allows you input an interval of standy by or SLEEP mode timer.
This is excellent news.  Here are links to download updates:
Windows: www.istarusa.com/documents/faq/RAID_Management_v0.09.67_Windows.rar

Mac: www.istarusa.com/documents/faq/RAID Manager_JMicron_v0.09.58_Mac.zip
SUMMARY
RAID 5 is a good thing. An inexpensive RAID chassis is a good thing. Slim, rack-mount storage with quiet fans is a good thing. But, this RAIDAGE RAID is not a good thing.
iStarUSA needs to address:
* Manufacturing quality
* Data transfer speeds
* Improving the clarity of the installation instructions
* Disabling auto-sleep
* Decreasing fan noise
This unit isn't bad – but it isn't designed for working with media. There are better choices. iStarUSA tells me they are working on a new version. I'm looking forward to seeing the improvements.

RAIDage GAGE104U40SL-SAUF RAID Enclosure by Larry Jordan
Reviewed by: Youtuber "wowtorreon"
Date: December 15, 2012
Video embed code:

RAIDage GAGE104U40SL-SAUF Unboxing and Review by Wowtorreon
Reviewed by: Stephen Fung
Date: January 26, 2012
Article url: http://www.futurelooks.com/futurelooks-quick-look-raidage-gage104u40sl-sauf-1u-4-bay-raid-enclosure-video/
Product page: http://www.istarusa.com/raidage/products.php?model=GAGE104U40SL-SAUF
Video embed code:
<iframe width="560" height="315" src="http://www.youtube.com/embed/q1S1FPz0upY" frameborder="0" allowfullscreen></iframe>
Futurelooks gets a quick look at a product that gives you Hardware RAID 0 – 10 in a 1U enclosure. It's rack mountable but also comes with accessories that allow you to just stack them on your desktop. It connects via USB 3.0, eSATA and even Firewire 400/800. They call it the RAIDAGE GAGE104U40SL-SAUF and it's definitely the longest name for a product that we've seen yet. Check out our quick look video overview above in glorious 1080p High Definition!
Value Added Extras and Notes
Typically when you purchase a lot of professional enclosures, you get nothing with it except a manual. The RAIDAGE comes with all the cables for every connection that works with it. That means you'll spend a lot more time working and a lot less time trying to hunt down the right cable to attach it to your workstation. Rack ears are included as well as the guards that double as locking mechanisms for a security bar. It's also nice that they've included both feet and covers for the unused rack mounts so that it'll look right at home on your desktop. The only sore point is the manual that is fairly basic and only comes in English.
The RAIDAGE GAGE104U40SL-SAUF was dropped into North America as part of a test market of about 100 or so units. But because all of them sold, they are now working on ramping up production to meet demand. The unit is clearly aimed at the professional audio or video editor that needs fast on tap storage that is completely redundant. The 1U form factor makes it a great addition to that mini-rack of equipment under some of those desks. Add to that the easy to swap trayless drive bays, and you've got a super easy to configure device that is up and going as soon as the drives come out of the packages.
Pricing was hard to nail down because of the spread of anywhere between $450 – 649US and availability was very scarce. We were finding them at pro-audio and video shops versus the regular NewEgg or NCIX where products like these may live. We have a feeling that this may be where that next shipment is going because we've heard that pre-orders are happening from this hot item.
Overall, it's not exactly cheap, but it is a 1U rack mountable RAID solution that uses a hardware controller inside with components from JMicron and Texas Instruments. They say once you go hardware you never go back, however we're still trying to get an answer from iStarUSA, RAIDAGE's parent company, about which model controller is actually inside the unit. We'll update when we find out. But I think the best part of the unit is the fact that the hardware RAID is self contained, allowing the device to operate at its fastest possible speed, even without an HBA in the host system. As long as USB 3.0 is your fastest connection, you'll get peak speeds. That's not to say that Firewire 400/800 and eSATA aren't acceptable in a pinch.
With some manufacturers going with Thunberbolt support on their motherboards, and of course Apple already all over that connection, we hope to see a new version, with a much shorter name, in the near future.
IMAGE GALLERY

RAIDage GAGE104U40SL-SAUF by Futurelooks
iStarUSA RAIDAGE GAGE104U40SL-SAUF
Reviewed by: Joe DiFiglia
Date: November 21, 2011
Article url: http://computingondemand.com/review-raidage-gage104u40sl-sauf/#.UPXQkaF2H-I
Product page: http://www.istarusa.com/raidage/products.php?model=GAGE104U40SL-SAUF
Larger storage solutions are becoming standard fare in today's home and office.  We are collecting more data about everything than just a few years ago.  With the transition many homes and small companies are making into the digital realm with data and storage, it may become a dizzying proposition to find a solution to your storage needs.  In many circumstances, a NAS may just be overkill and a simple answer is what you are looking for.  Enter the RAIDAGE GAGE104U40SL-SAUF Trayless Hardware RAID enclosure.
The GAGE104U40SL-SAUF is really a dual purpose storage solution.  The idea behind the unit is that it can be rack mounted for extra server storage space by purchasing the optional rails, or it can make a very attractive storage element on your desk.  The entire unit is constructed of high quality aluminum, measures 19.00" x 1.70" x 11.50", can home four SATA I/II/III 3.5 inch hard drives, includes three ultra quiet 40mm cooling fans, and supports RAID 0, 1, 3, 5, 1+0, Combine (JBOD).  There are varying interfaces for your connection pleasure as the unit sports USB 3.0, eSATA, FireWire400, and FireWire800 interfaces.  All the necessary cabling is included.
The sleek and slim design of the GAGE104U40SL-SAUF lays your hard drives out side by side and uses a tool free system for removing and installing hard drives.  Hard drive installation is as easy as opening the VERY thick aluminum front panel, nearly ¼ inch thick, and pushing a drive in.  To remove a drive, just pull the lever above the drive you wish to remove with your finger, and the drive easily removes.  Because of the all aluminum construction, the release mechanism gives you that "scraping along the chalkboard" feeling when you pull it to release a drive.
The front of the GAGE104U40SL-SAUF is very simple, which makes it very elegant; there are just four LEDs for activity that light blue when idle, blink purple with activity, and alarm you with red if there is an error. Directly behind the front panel door rest your drives and two small buttons, one power button, and and a SET button.
Around back you have all the connectivity options, the switches for RAID configuration, the three 40mm exhaust fans for cooling, and the power connection.  I have to give some "props" here for designing the unit to use a standard PC power cable and internal power supply and not requiring a brick. This would defeat the purpose of the ability to rack mount the unit.
The GAGE104U40SL-SAUF features its own internal RAID solution which makes setting up a breeze, and it also makes it Mac, Linux, and Windows compatible because you don't have to worry about installing any RAID cards in your system.  The already mentioned RAID configuration switches in the back let you pick which type of RAID you wish to use.  A few magic shakes from your wand (a a power on while holding the "SET" button) and you are off and running.  If you are concerned about accidentally changing your RAID setup by knocking some switches around on the back, don't be.  You are required to "clear RAID" before you can change the RAID configuration; which means you have to follow the same process to create RAID, but instead flipping all the switches to CLEAR, powering on holding the SET button, then powering down, picking your new RAID level and powering on, again holding the SET button. Creating the RAID array was much easier than I had expected.
Given my struggles with other RAID devices, I had expected more of the same here.  Instead the RAID creation worked first time around without a hitch and Windows 7 recognized the (four 1.5TB drives in RAID 5) 4.5 TB drive immediately.
If you are looking for some speedy storage to store music or videos then the GAGE104U40SL-SAUF can be a suitable solution for you.  The inclusion of high speed connectivity allows you to maximize your throughput and negate any latency issues you might experience with some networked attached storage.  Typically, network performance can fluctuate in an environment while directly connected storage devices usually will experience more stable performance.  To test, we attached the GAGE104U40SL-SAUF to our bench rig and ran our in house Avatar test for benchmarking.  Keep in mind here that we are benchmarking this device with SATA II drives.
The benchmark is conducted by creating a 46.6GB file (Avatar.iso), transferring the file to and from the test unit using Robocopy.  The test is run 10 times and then the results are averaged for a final score.
Bench rig:
Gigabyte 880GA-UD3H
AMD Phenom II X4 965
2x2GB Patriot Sector 5 PC3-12800
Seagate 500GB ST3500630AS
Lian Li PC-6 (click to read our review)
BFG LS-450
Windows 7 Professional 64-bit
GAGE104U40SL-SAUF:
4 x ST31500341AS 1.5TB SATA 3.0Gb/s HDDs in RAID 5
USB 3.0 Connected
In testing, the GAGE104U40SL-SAUF performed consistently.  Our Avatar test indicates that the device was able to sustain an average transfer to speed of 77.26 MB per second and a transfer from speed of 58.44 MB per second.  In an optimal environment you can average the same types of speeds from a NAS; however, because there are too many variables with networking, sustaining comparable speeds may prove to be an exercise in patience.  To compare results from some of the NAS's we have tested, the Thecus N4200PRO performed the same test at 73.10 MB/s to and 70.93 MB/s from but costs around two hundred dollars more.
With reliable and sustained transfer speeds, the GAGE104U40SL-SAUF can be used to store large amounts of data and have them readily available for you.  The all aluminum design provides a sufficient amount of cooling when paired with the three 40mm cooling fans, and it also looks good too.  The side by side drive setup can take up more space than the StarTech S354UFER, but with the way it looks, you won't mind having it on your desk.  I would have liked to see a bit more performance from the USB 3.0 connectivity, but we are limited more by the speed of the drives in the enclosure than the speed of USB 3.0.  With easy to configure RAID options and plenty of connectivity options, the GAGE104U40SL-SAUF will be hard to ignore.  If you are looking for a desktop or rack mount storage solution then the GAGE104U40SL-SAUF should definitely be considered.

RAIDage GAGE104U40SL-SAUF by Computing on Demand
Reviewed by: Shane Ross
Date: July 19, 2012
Article url: http://lfhd.net/2012/07/19/review-raidage-gage/
Product page: http://www.istarusa.com/raidage/products.php?model=GAGE104U40SL-SAUF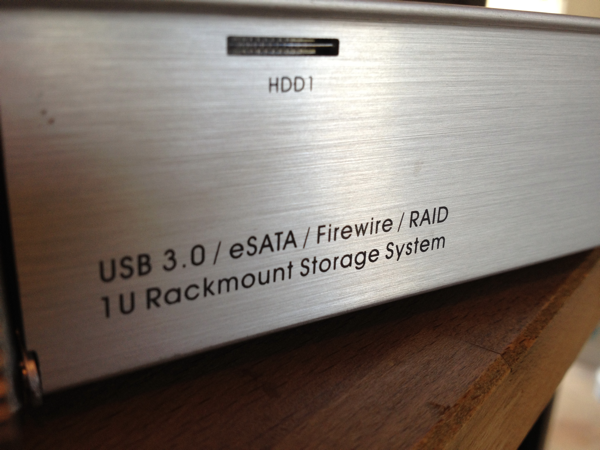 OK, time for another review for a hard drive enclosure: the RAIDAGE GAGE104U40SL-SAUF 1U 4 Bay RAID Enclosure from iStarUSA. This one is cool…it stands out. That's why, when the makers asked me to review the unit by commenting on a previous post, I leapt at the chance. Well, after first starting to compose the email gently letting them down… "Thank you for your interest in my blog. I'm sorry, but I no longer do hardware reviews for drive enclosures as I find them dull and the same old same old…" But then I got a wild hair and clicked on the link to look at the thing.
I liked what I saw.
Here's why I liked what I saw. This is a slot loading TRAYLESS hard drive enclosure. I can take bare SATA drives I buy off the shelf at Fry's or order at newegg.com and put them in the unit right away. No trays to screw onto the drives first. Pop open the door, and in they go.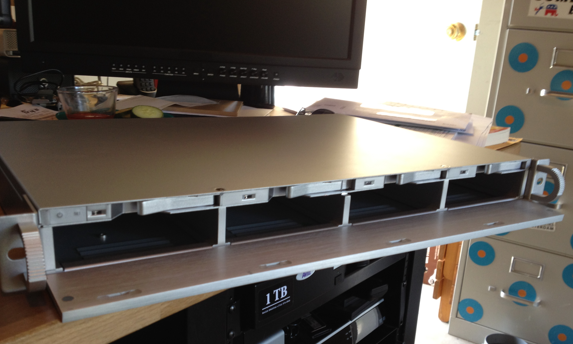 I'm a HUGE fan of this type of enclosure, because I use bare SATA drives to archive all sorts of things. Camera masters, media managed show masters, show outputs, stock footage, music, and sound effects. And I also use them on occasion to edit from, although that is rare. You see, I currently have a SansDigital unit connected via eSATA that I use as a trayless enclosure, although it isn't designed to be one. Yes, you can slide the drives in, but the unit wants you to then screw them in, to keep them in place. The drives aren't as snug in their beds as they should be…they are only held in place by the connectors. So it isn't the best solution, which is why I mainly use it only for archive solutions.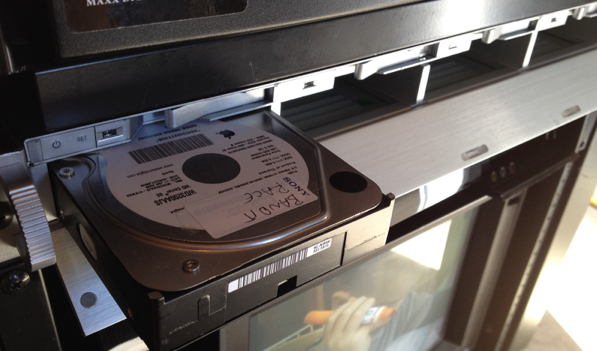 But this unit is designed for the bare drives. It holds them in place without the need for trays.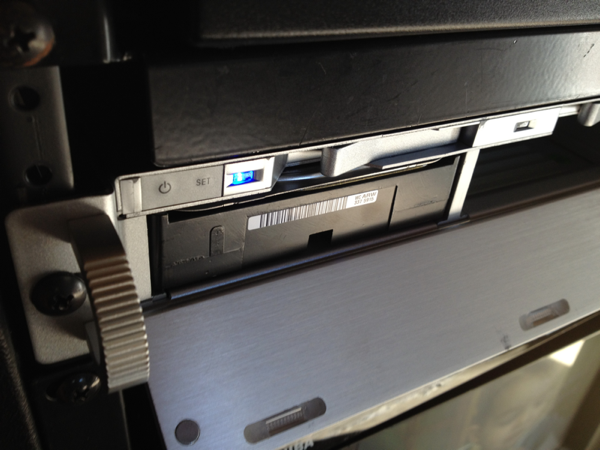 And it has nice release handles to aid in getting the disks out.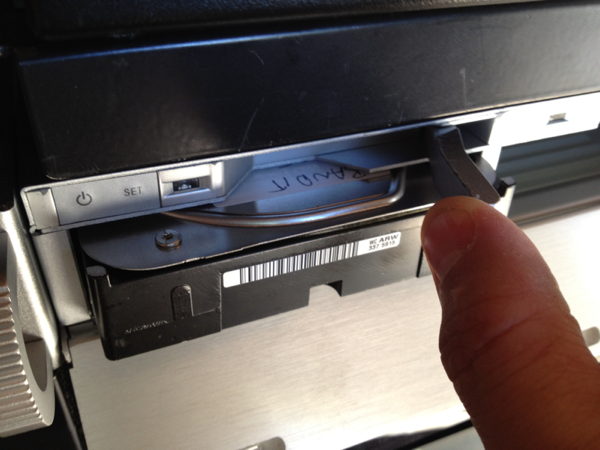 And it's VERY quiet. There are fans for cooling, but I don't hear them. I hear the drives more than them, and when you close the big front door…even that sound becomes very minute. Barely noticeable. My MacPro is louder.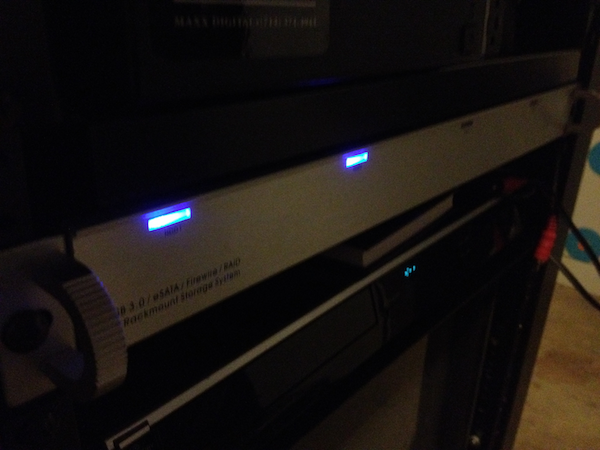 And there are indicator lights on the front so you can see which slots have drives in them, and if they are active.
OK, so we have one cool feature… that the unit takes bare SATA drives without trays. Let's add a couple more cool features.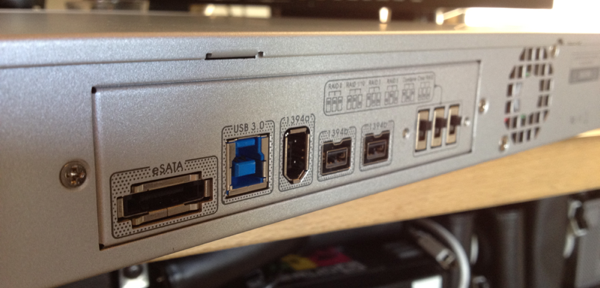 CONNECTIVITY.
This unit pretty much has it all. It covers nearly all the bases. It has eSATA (my current connection of choice), Firewire 800 (two connectors), Firewire 400 (one connector), USB 3.0. You can connect this to just about anything (Yes, for Thunderbolt you will need an adapter). Perfect! I can connect it to my MacPro via eSATA, or to my 2012 MacBook Pro via Firewire 800 or ultra fast USB 3 and use it to back up tapeless media or files from my laptop. Or use it as my media drive. Macs used to lack USB 3, but now they are available on their laptops…and they are a Windows workstation standard, so on a Windows PC you have ultra fast USB 3 connect-ability as well.
To answer your question before you ask it…no, you cannot connect it to your tower via eSATA and another computer via Firewire or USB 3 and have it show up on both at the same time. It won't work, I tried. And why two firewire 800 ports? Loop through. Daisy chaining drives is possible with this.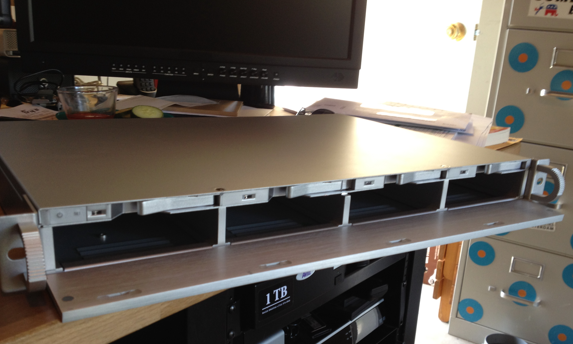 FOOTPRINT.
Well, it does have a pretty major footprint. Meaning that it does take up a big part of your desk. But you can set one of your monitors on top of it, or put it off to the side under your decks. Unlike my SansDigital that stacks the drives vertically, this design has the drives side by side. But that is to enable it to do the other cool think I liked about it.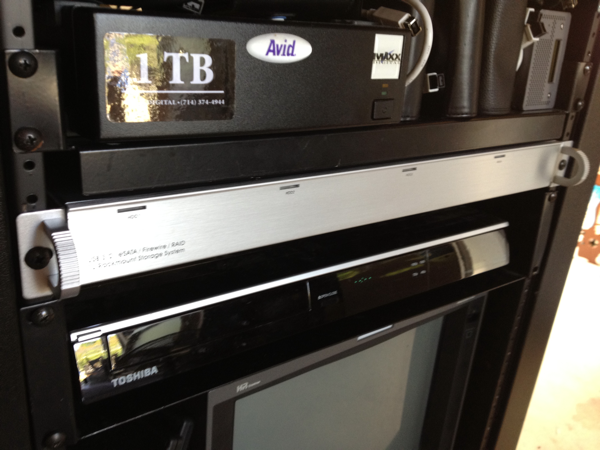 IT'S RACK MOUNTABLE!
It takes up 1 U of rack space. That stands for ONE UNIT…one width high. In that respect, it takes up very little space. And since I happen to have a rack or two under my desk, it fit in perfectly. So perfectly that I'm most likely going to buy the unit when testing is over. I like it that much.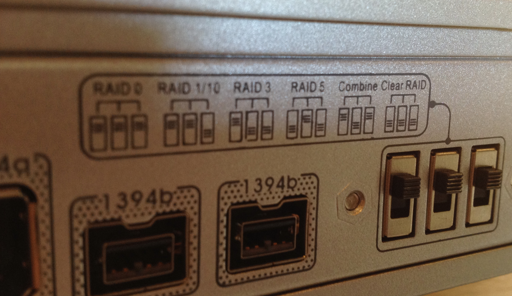 RAID TYPES
The unit can be configured in many ways.
- JBOD (Just a Bunch of drives), meaning that each drive shows up as a separate drive. Put four drives in, you see four drives appear on the desktop.
- RAID 0
- RAID 1
- RAID 3
- RAID 5
Don't know what those all mean? Then go here for some light reading:
Most people use JBOD like I do, for archiving, RAID 0 for speed, or RAID 5 for speed and redundancy.
SPEEDS
Yes yes…"how fast is the thing?" I know that's what you want to know. Alright, I tested it only as a JBOD unit. That's the default setting it ships with. I tested it in this manner as I didn't have four drives of the same make/model/size in order to test the other RAID types. Those are all in my other RAID. I did have four drives of varying size, so I tested the speed of the unit in JBOD mode via firewire 800 and eSATA. Those being the fastest and more common connector types.
With eSATA I got speeds in the 98MB/s to 108MB/s range. A bit faster than I get with a G-Raid connected via eSATA, or my SansDigital. VERY nice.
Firewire 800 resulted in between 69MB/s and 82MB/s…which is typical for the other drives I have as well.
For the RAID 0 and RAID 5 testing, I relied on the manufacturer to provide the numbers. I'm sure if I had the 4 drives to test with I'd get the same numbers they did. I'm confident they were truthful in their reporting. They connected it via eSATA to a windows machine.
Here are the RAID 0 numbers: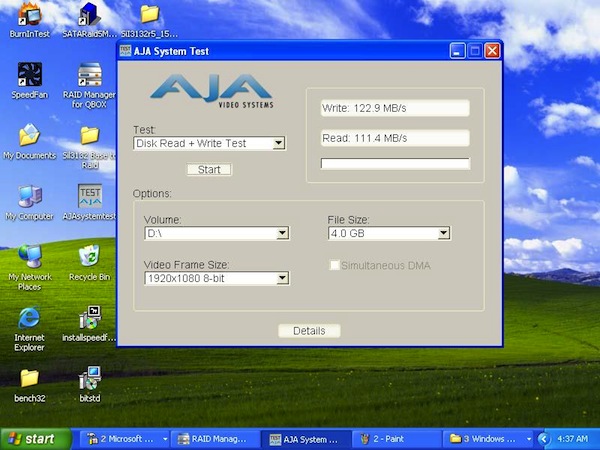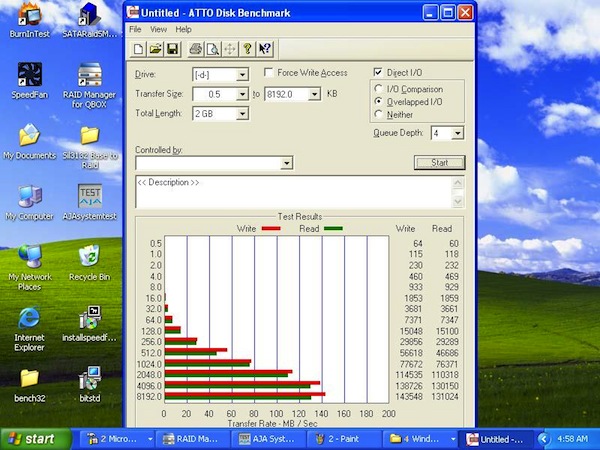 Between 111MB/s and 123MB/s using the AJA test…but upwards of 140MB/s using the ATTO benchmark. I think I trust that one better on a PC.
And the RAID 5 numbers: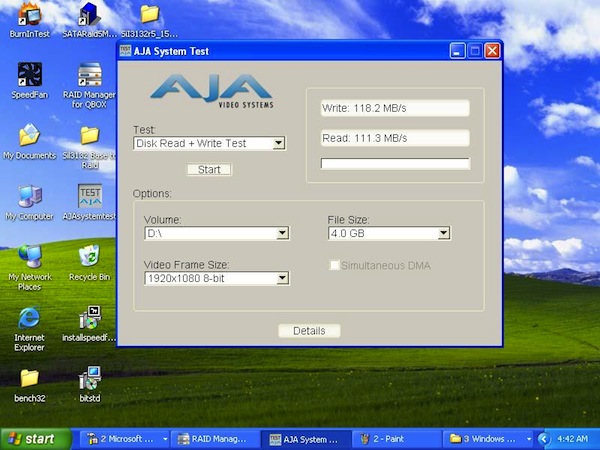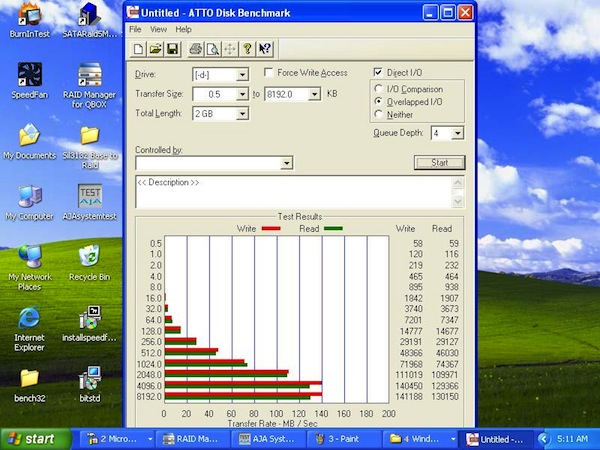 RAID 5 gave pretty much the same numbers as RAID 0. Between 111MB.s and 119MB/s, and upwards of 140MB/s using the ATTO test. Now, the reasons the numbers are a LOT higher like 300MB/s, is the limitation of eSATA connections. That's near it's limit. For faster speeds, look at GigE Ethernet, Fibre and SAS connection speeds. But for the connection types it has, that's pretty dang decent. Perfectly fine for multiple layers of compressed video formats like ProRes and DNxHD. 3-4 streams in my tests.
No, it isn't a speed demon, but what it offers is ease of use. Easy to get drives in and out, so you can buy bare SATA drives (cheaper than ones with enclosures) and swap them out for archiving camera masters, show masters, or going back and forth from project to project. And because it is rack mountable taking up only 1U of space…it's compact and out of the way.
By the way, they have a pretty cool video that shows off the unit on YouTube. Check it out.
Now that I have a laptop with USB 3, and my Tower sporting eSATA…this is on my wish list.
The units run for $375, and can be found on Newegg.com
(The unit was returned at the conclusion of the review)

RAIDage GAGE104U40SL-SAUF by Shane Ross
Reviewed by: David McCabe
Date: August 15, 2011

Article url: http://www.virtual-hideout.com/2011/08/raidage-powered-by-istarusa-group.html
Product page: http://www.istarusa.com/raidage/product_speclist.php?division=Storage&series=Custom%20Storage%20Tower&sub=eSATA
The Super Hard Drive
The
RAIDage high performance Storage towers
, in a nutshell, are designed to allow RAID configuration on large data capacity in a compact size. Its no-nonsense design eliminates all other junk that comes with a typical storage server. With its many hot swappable bays, it stores large amounts of data that are ready to be configured to protect valuable contents on your hard drive. 
Room for Possibilities
RAIDage also gives you the liberty to customize your configurations through your host controller. In other words, depending on your host controller capabilities, you can have transfer speeds of up to 6.0GB per second. Through a high performing RAID host controller, these storage towers can have raid configurations of 1/0/5/10/ JBOD, which assist to duplicate or mirror hard drives that avoids hard drive failure.
Benefits and Application
As described above, benefits gained from the
RAIDage storage towers
are endless and the price to pay in exchange for data security is priceless; RAIDage's brand and storage towers is trustworthy. 

RAIDage v7AGE420-ES 4-Bay Trayless eSATA RAID Box Review by Computing on Demand
Reviewer: Joe DiFiglia
Date: October 22nd, 2010
Article URL: http://computingondemand.com/?p=4566
Product page: http://istarusa.com/raidage/products.php?model=V7AGE420-ES
iStarUSA is a company that I have become a big fan of over the years.  They manufacture products that are higher than standard quality and pay attention to the people buying and using their products.  iStartUSA has released a 4-Bay trayless RAID box and at first glance, it is sexy.  The need for affordable and easy storage solutions is a quest that many of us have been on; let's see if the v7AGE420-ES can compete.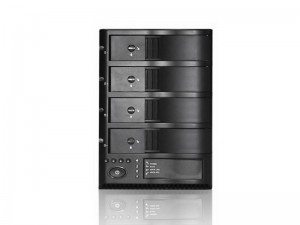 The v7AGE420-ES utilizes a tool-free technology for easy installation, locking doors to prevent accidental removal, a sleek design, and an eSATA port for connectivity.  The enclosure has a sturdy feel to it and it doesn't weigh all that much.  This design allows for a strong construction and a reduction in overall gravitational activity.  The front of the unit is garnished in a black plastic bezel with matching doors and accompanying each of these is an activity LED that changes from blue to purple.  Each of the 4 bay doors are constructed of a durable plastic and the latching mechanism seems sturdy enough.  The lock on each of the doors gets the job done and doesn't require you to remember where you hid a key.  You can simply turn them with your thumb nail, a quarter, a key... you get the point.
The front bezel is also home to a slew of other LEDs ranging from Power, Errors, eSATA Link, eSATA ACC, the HDD activity LEDs (numbered from 1-4 instead of 0-3), and another set of 4 LEDs that I haven't figured out the purpose of yet.  The v7AGE420-ES has an internal SIL3726 controlling card, weighs about 8lbs, has dual 60mm cooling fans and a poorly placed power button.  You don't need to worry about OS compatibility because you must connect through an eSATA controller that allows for port multiplying.  Remember though, your disk partition size may be limited by your OS.
While they call this unit a RAID box, don't get it confused, there is no internal RAID controller hidden inside.  Luckily for us, there are some affordable solutions out there to complete the package.  I found a SIL3132 RAID controller at MicroCenter for $25.00 USD.  The drawback? software RAID, however, still good enough for most purposes.  There is no direct configuration here, just slap some drives in it and rely on your controller card for the rest.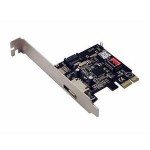 Ok, let's talk about that poorly placed power button now.  Being that this type of unit is made for storage, the last thing you want to happen is to have it lose data.  With the front facing power button, there is no insurance that the unit will stay powered on while transferring data.  Unlike other systems, like the StarTech S354UFER, you can just press the power button to turn it off instead of having to hold it down.  Either move the power switch to the back or make it harder to lose data.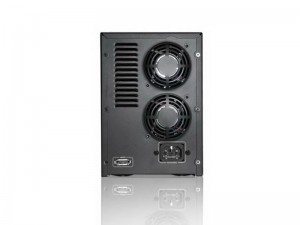 Outside of the power button, I have yet to find any other major fault with the iStarUSA offering.  The design is solid and it does as it should.  The doors are durable enough to withstand the 3 months of abuse I have been putting it through.  The 60mm fans in the back do a good job of keeping everything cool and the fact that I don't need a special power connector is a welcomed bonus.  The eSATA connection means that I get fast transfer speeds.  It is not worth benchmarking though as I am limited to more of the performance of the controller card than the RAID box.  The hard drive activity LEDs could have used a more defined purple to represent activity as they are barely discernible from the normal blue state.  If you choose to spend more money than I did, you can get yourself a better RAID controller card  and end up with a fairly robust solution that is still cheaper than many other offerings out there.  The drawback here is that if your system fries you may lose your controller card too...  There are other flavors that utilize an internal RAID controller and if money is not a problem I would recommend going for one of those instead.  If you are looking for storage on a budget, look no further.  If a robust RAID solution is what you need, look at one of their other offerings instead.  Bottom line... would I buy one? Meh... I would probably go for the v7AGE420-SAUF which sells for about $100.00 USD more instead.